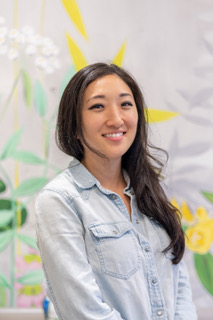 Jasmine Kitchen's Chef and Culinary Manager, Tina Hogue, was born in South Korea, but grew up in Central Texas. She graduated from The University of Texas as a double major in Journalism and Film before going to the Texas Culinary Academy where she got her Culinary Arts degree. Her mother is a small business owner, and her father, who recently passed away, was a 22-year Air Force Veteran and retired analyst for Lockheed-Martin.

Tina owned and operated a food truck for three years in Reno, NV called 'The Burnt Orange' and served Asian Tex-Mex street food like Sambal Chicken Quesadillas, General Tso's Tacos and Kimchi Fries for several companies including Tesla, Patagonia and Google.

She moved to the Greenville area this summer and enjoys exploring the city and meeting new people. She likes to spend her free time outdoors and adventuring with her boyfriend Alex, and the love of her life Willie, who is a 100-pound Shepherd-mix named after Willie Nelson.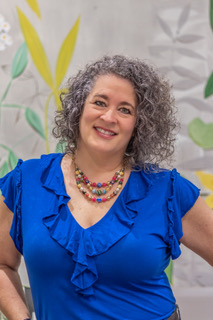 Jasmine Kitchen's Sous Chef and Pastry Manager, Kerrie Ostrander is an award winning chef whose career has seen collaboration with some of the most enterprising minds in modern cuisine. An accomplished chef and graduate of The Culinary School of Kendall College, her gastronomic flair has paired her shoulder to shoulder with David Burke, Jean-Claude Poilevey, Anne Rosenzweig and numerous industry leaders. Kerrie honed her expertise in France and Italy and looks forward to bringing her signature hospitality to Greenville.

Chef Ostrander was born and raised in America's heartland - where farm to table isn't a trendy urban movement but a way of life; one that has spanned generations of local farmer families - families like Kerrie's. If her father wasn't caring for Angus livestock then her mother was canning for the winter, and like most farming families you are expected to contribute to tasks at an early age. Chef Ostrander has been working with food and fare since she was a child.

A passion for gastronomy and a drive for expertise led Kerrie to leave Kansas for The Culinary School of Kendall College in 1994. There she transitioned to the haute cuisine of Chicago - a hotbed of cutting edge concepts in the restaurant industry that loomed large over the Second City. Kendall created an opportunity to solidify a foundation of professional methodology while experiencing first hand the cosmopolitan expectations of fine dining establishments. In her final year Chef Ostrander earned her European Studies degree by practicing her art in both France and Italy. These are professional networks that remain close even today.

Chef Ostrander worked at Gordon, a culinary Mecca for Chicago's elite, where she was hand selected by distinguished chef Keith Korn as the restaurant's pastry chef. During her years at Gordon, Chef Ostrander was fortunate enough to be part of several James Beard dinners, and worked with amazing chefs like Jared Wentworth and Todd Stein. Chef Ostrander was even delighted by the opportunity to prepare dessert for Julia Child.

Chef Ostrander continued to advance her career eventually transitioning into management with Eurest Dining Service, an upscale food service industry leader which maintains corporate dining contracts across the United States. Chef Ostrander went on to distinguish herself by being recognized as Chef of the Year by her new employer and was eventually promoted to Food Service Director for a prestigious law firm in the Sears Tower, Sonnenschein, Nath & Rosenthal.

After she and her family moved to South Carolina in 2008, Chef Ostrander owned Cup & Cake, LLC. Through this endeavor Chef Ostrander connected with those who had given up the thought of enjoying high quality baked goods due to allergies or dietary restrictions. Cup & Cake provided entire product lines developed by Chef Ostrander to meet the needs of her clientele through the TD Farmers Market in downtown Greenville.

Chef Ostrander has continually challenged herself to remain cognizant of industry trends. She has actively catered corporate benefits and private events that spark her creative interests. Chef Ostrander also donates her time and expertise to charitable funds that she supports.
Restaurant partner Kevin Feeny, owner of Kitchen Sync Restaurant, provides support to the team. He has generously shared his extensive restaurant experience, helping with the building and kitchen design, the restaurant concept, staff training, and sustainability measures. Kevin serves on the Board of Managers and brings his compassionate leadership to the project helping us value people, planet and profit equally.